Artisan Pasta made with wholemeal Farro
We make the best artisan wholemeal pasta based on spelt wheat of the ancient triticum dicoccum species. Not only that, but we also create tasty variations of spelled pasta mixed with legumes and other precious vegetable allies that we cultivate using the best organic and sustainable farming techniques.
Once we have collected the fruits of our good land, entrusted to the skilled hands of dozens of farmers to whom we entrust the best seeds, we grind them to stone and to the whole body. Our manufacturing processes use only renewable energy to obtain perfumed and perfectly workable flours and to allow us to live in a rich and always alive environment.
Grinding with the stone mill
The grinding with the stone mill allows the complete transfer of the germinating, starchy, and fibrous part of the grain into the flours. This is how we obtain real whole grain flours, not artificial but, rich in every original and nutritional element.
For this reason, we have become the most important and serious producers of farro-spelt wheat in Italy also leaders in the production of wholemeal flours and artisanal pasta derived from ancient cereals and legumes.
Artisan wholemeal pasta based on ancient spelled wheat
The delicacy of the materials and the craftsmanship of our manufacturing processes, therefore, deserve attention and care in cooking and any creaming of the pasta. The texture of every single piece is precious. For this, there is a need for greater delicacy than the cooking methods of normal dry pasta on the market.
Therefore, it is better to shorten the cooking times and use a little salt, which affects the boiling processes with cold bodies placed in the water. In fact, the right balance between cooking in water and flavour will allow us to keep intact all the nutritional properties originally present in our pasta.
We just have to wish you a good appetite!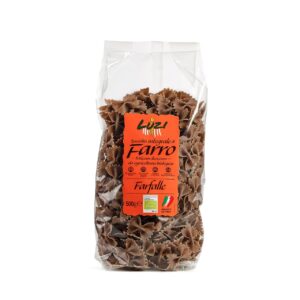 LUZI uses only Triticum dicoccum L. farro for its organic specialty, the perfect solution for the handmade pasta processing and