Categorical imperative: never start a new week with the intention of starting the diet. Failure is assured. Yes, because apart from all good intentions, and personal or collective will, there is no chance to brighten our stormy relationship with Mondays. Imagine then that of returning from the Christmas holidays.
Christmas is for ourselves as a good glass of wine: it removes all inhibitions towards food. And so we indulge in panettone, flans, fried foods, fats, carbohydrates, and so on and so forth. But what does our body think about it? Are we really sure that two weeks of long lunches up to dinners can help the host machine to make us live better and well?
They certainly help the mood to blend in with the sweet and tasty Christmas notes, with the climate tempered by the lit fireplaces and the swing music that comes out of the piped music on the streets of the city. To get out of this impasse, however, perhaps there is a solution. And this is what we propose with the recipe of our Detox soup based on spelled and legumes with which to start a healthy and willing diet.
Its preparation is very simple, but it needs the #bestingredients to be perfect. Here is the recipe for an entire family:
1 liter of  water,

1 Tropea onion,

1 carrot,

1 courgette,

celery, to taste

leek, to taste

Controne beans,

thyme,

fresh oregano,

basil,

300 grams of LUZI pearl spelled,

extra virgin olive oil,

Salt to taste.,

a whole chili
And now here's how to prepare it to step by step.
Put the well washed and chopped vegetables in a narrow-bottomed pan. Then add the water and the Controne beans. It is advisable to put a lid on the same base and let the soup cook for about thirty minutes over low heat. Once you have checked the cooking of the vegetables and beans, break up the thyme and fresh oregano with your hands and add the LUZI pearl spelled, previously rinsed with fresh water. After ten minutes, and having tasted the right cooking of the ingredients, add a modest quantity of salt (it would be better to avoid it), oil, chili pepper, and finally the basil chopped with your hands (to prevent the knife blades from oxidizing and making the aromatic plant).
Leave to rest for a few minutes and indulge in its light and fragrant taste.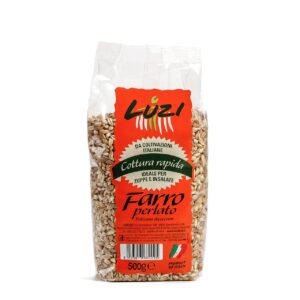 LUZI cultivates an ancient type of farro, known as Triticum dicoccum L., to prepare its selected organic pearled spelt, mostly cultivated
Finally, being low-calorie in tasting it you will not feel any remorse. Not even after the encore.