Ingredienti per Sformato di Farro con Verdure (per uno stampo a ciambella da 22 cm) :
150 gr di farro perlato
450 gr di verdure miste (zucchine, piselli, carote)
1 scalogno
4 uova
30 gr di parmigiano
30 gr di Emmental
olio e sale q.b.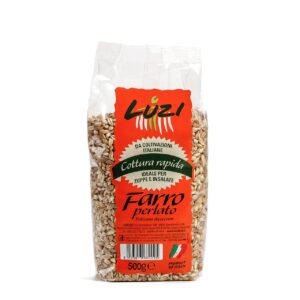 LUZI cultivates an ancient type of farro, known as Triticum dicoccum L., to prepare its selected organic pearled spelt, mostly cultivated
Per preparare questo buonissimo Sformato di Farro con Verdure bisogna innanzitutto cuocere il farro in acqua salata, scolarlo e raffreddarlo sotto acqua fredda corrente.
Dopodiché bisogna affettare lo scalogno e farlo rosolare in padella con olio caldo. Tagliare le verdure a dadini e saltarle in padella con olio e scalogno. Farle raffreddare e unirle al farro.
Infine aggiungere due uova intere e due tuorli. Montare a neve i due albumi restanti. Unirli al composto e aggiungere il parmigiano e l'Emmental grattugiato. Aggiustare di sale e versare nello stampo, ungendolo se necessario.
Cuocere in forno ventilato a 180 gradi per 40/45 minuti.
Ricetta : Tania Gorelli, @taniago74
#buonappetito