Whole Wheat and Organic Products
We cultivate a variety of cereals and legumes used for the production, inspired by distant traditions, of wholemeal, healthy, and functional foods of the highest quality and with organic certification. The company project is based on the exaltation of the principles in support of the environment and mankind through the adoption of sustainable cultivation methods with low environmental impact. All this, together with passion, produces whole foods rich in nutritional values ​​donated by nature and by LUZI mixed with wisdom. The entire range of LUZI brand foods is produced in Italy.
Through the family farm, we take care of entrusting our seeds to the best local growers, controlling every phase of growth and development of the plants, and finally of guaranteeing the withdrawal of our best fruits. Thanks to these collaborations, the total area of ​​land dedicated to the production of organically grown cereals and legumes have grown to over 3000 hectares concentrated in the beating heart of Italy.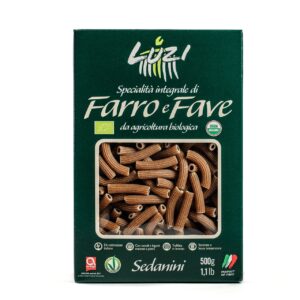 Wholemeal  and healthy foods
For generations, our family has cultivated cereal and legume soils in Central Italy to produce wholegrain, healthy and functional foods with organic certification and of the highest quality. The attachment to the territory and its traditions, the passion for the flavors, the aromas of the foods of the past, and the desire to share all this with those who appreciate good and healthy food are the principles from which we draw strength and inspiration.
Biological Agriculture
& Traceability
The Sinagri Network is a network of agricultural entrepreneurs operating in over 1500 hectares of land in Central Italy. At the head of this wonderful chain, made up of 150 organic farming companies, there is the LUZI family farm which is committed every day to entrust them with the best seeds, controlling their cultivation, natural fertilization methods, and ensuring their withdrawal of the productions. But his work doesn't stop there.
Stone-ground
& Wholemeal Bronze Drawn
The grinding of cereals and legumes takes place today with the stone mill of the new plant in San Lorenzo in Campo, in the province of Pesaro Urbino, where the ingredients are then stored in refrigerated silos without the use of chemicals.
A story dedicated to the art of cultivation
"We really love what we do and we have been instilling this great love into our productions for generations"
-Gianluigi Luzi "Un Messaggio di Benvenuti a Casa"